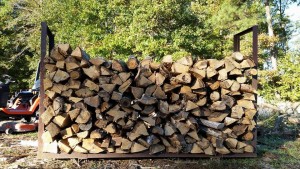 Firewood
ORDER ONLINE FOR FARM PICKUP
Due to market increases in lumber and building supplies, firewood is in short supply and sourcing wood has become quite expensive. We are currently sourcing bulk seasoned wood at a fair and reasonable market price.
Since 1978
With over 40 years delivering in the RVA, we are your local source for quality seasoned firewood. 
Wood Species
Red Oak, White Oak and Hickory, cut to 18 to 20 inches in length.
Truck Delivery 
Current Price–$205 .00 Full size pickup truck, 8′ bed. $2.00 per mile delivery fee.—We will stack at no charge if we can back the truck to exact location where you would like the wood. See "Labor Fee" below. 
Pick up your own
Currently Not Available
$55 self load pre-measured tractor scoop. Email for availability and to schedule a pick up day.  
Labor Fee
We stack wood where we can back the truck. If a cart or added labor is needed to move wood to a location, then the rates are as follows.
$20 first 50 ft, $1.00 per additional 10ft. .We do not carry wood up stairs or onto decks or similar landings. 
Moisture 
Each delivery will receive a moisture reading to guarantee quality and assurance that your firewood will burn cleanly and efficiently. less than 25% moisture content.
---
---
Ideally, firewood should be stacked away from your house in an open and sunny location or a roofed and open lean-to. We do not recommend stacking against your house. As wood ages and rots, it will encourage termite growth near your home. It is best to stack several feet away from homes.
We do not recommend stacked wood to be covered top to bottom with a tarp or similar covering. Although wood is cut and dried, it is still a breathing organism. Covered wood can retain and produce excess moisture as ground water evaporates. The evaporated water will condense under the canopy, thus causing it to "rain" back down on your dried wood in an unforgiving cycle. Thus, causing your seasoned, ready to burn wood to become difficult to burn as well as reduced efficiency. We highly recommend only covering your wood in the event of rain or snow. Leaving your wood to air out as much as possible will ensure a quality fire all season long.
Always clean your chimney once a year by a licensed and insured professional.
Start your fires small and slowly build to suit.
If fires become low burning, open a window to introduce more oxygen. Many homes these days are very tight and fires will burn much needed interior oxygen. Simply opening a window for a few minutes will bring many fires back to life.
Clean your fireplace often. A clean fireplace burns hotter and more efficient.
We hope you stay nice and cozy this winter. Enjoy.
© Copyright Swift Creek Berry Farm - Designed by Pexeto